Are you looking for a truly unique

 
setting for your upcoming event?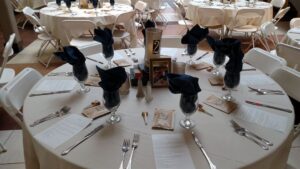 The Life Center is the perfect place, offering a variety of room configurations to accommodate small intimate parties to large parties, up to 175 seated guests at round tables -or- 250 guests free standing.
The Life Center is the perfect host for Funeral Luncheons, Birthday Parties, Anniversaries, Showers, Sports Banquets, Corporate Functions, Fund-raisers, or any other occasion you could dream of.
Our menus are suggestions only; we will gladly customize a menu to your liking and budget. All of our menus are available – pricing and menus may be altered to your needs. We are happy to offer you a full onsite caterer. Annemarie's Cuisine provides not only delicious and fresh food options but professional staffing as well. The staff can help you plan your event, set up, clean up and serve food, drinks and hospitality. You will soon discover a place to host ALL of your future gatherings. We look forward to working with you!
Below is a look at all of our current menu samples and prices. You will also find our contact links for The Life Center Coordinator (Mrs. Tina Tase)  as well as the link to our Executive Catering Chef (Catering By Annemarie's Cuisine). Contact us with any questions or to schedule a tour of our wonderful event space.
---
If you are interested in touring and/or booking The Life Center please contact Mrs. Tina Nase our hall coordinator by CLICKING HERE or calling her at 215-745-3211 Ext. 109 or by email at tnase@resurrectphila.org 
If you have any questions about any of the food menus (see above) or any concerns about the food/beverage for your next event please contact Annemarie's Cuisine by CLICKING HERE or calling 215-806-7675 or by email at catering@annemariescuisine.com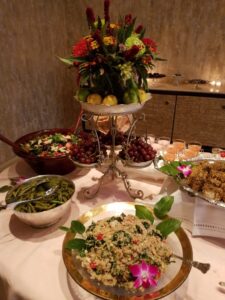 ---
Below is a sample of the menus provided for The Life Center. Annemarie's cuisine is local and nothing is ever bought from big box stores or wholesale but rather every single menu item is made from fresh ingredients and made from scratch with love and detail. Every item can be altered to accommodate diets, allergies and preferences. You won't find this with other caterers! Click the menus to view or to print. Any questions – just contact Annemarie's Cuisine.
" We were delighted with renting the hall at Resurrection Church. The staff worked with us to make our event so memorable. I will be recommending the hall to all of my friends." 
– Kathy B. from Philadelphia
---
The Life Center 2022/2023 Rental Fee
$ 600.00 if not using
our onsite caterer
$ 300.00 if using
our onsite caterer
Includes the time and attention of our Hall Coordinator, the planning, set up, clean up and breakdown of the venue. Any Catering (food or drink) involved with the rental is an additional fee. All food and non-alcoholic beverages are provided by our exclusive onsite caterer – Annemarie's Cuisine. 
***A signed contract is needed to complete your hall booking reservation***
The contract includes our policies and procedures as well as a deposit.
If you are interested in touring and/or booking The Life Center please contact Mrs. Tina Nase our hall coordinator by CLICKING HERE or calling her at 215-745-3211 Ext. 109 or by email at tnase@resurrectphila.org 
If you have any questions about any of the food menus (see above) or any concerns about the food/beverage for your next event please contact Annemarie's Cuisine by CLICKING HERE or calling 215-806-7675 or by email at catering@annemariescuisine.com