Saint Peregrine Day
Saturday September 16th, 2023
A day of encouragement and spiritual renewal for those with cancer and their families
This page is intended to guide you and help you prepare for this very special neighborhood event. Cancer has touched all of us and our families. Often times there are days devoted to cancer awareness, cancer prevention, cancer fundraising, expos and memorials. This day is DIFFERENT. Saint Peregrine is the Patron Saint of those battling cancer. We are dedicating a day to look at the spiritual side of dealing with this disease. Cancer is not only a battle of the body and mind BUT also the heart and soul of a person and their loved ones. Join us on this day to lift up and strengthen our faith when it comes to having cancer.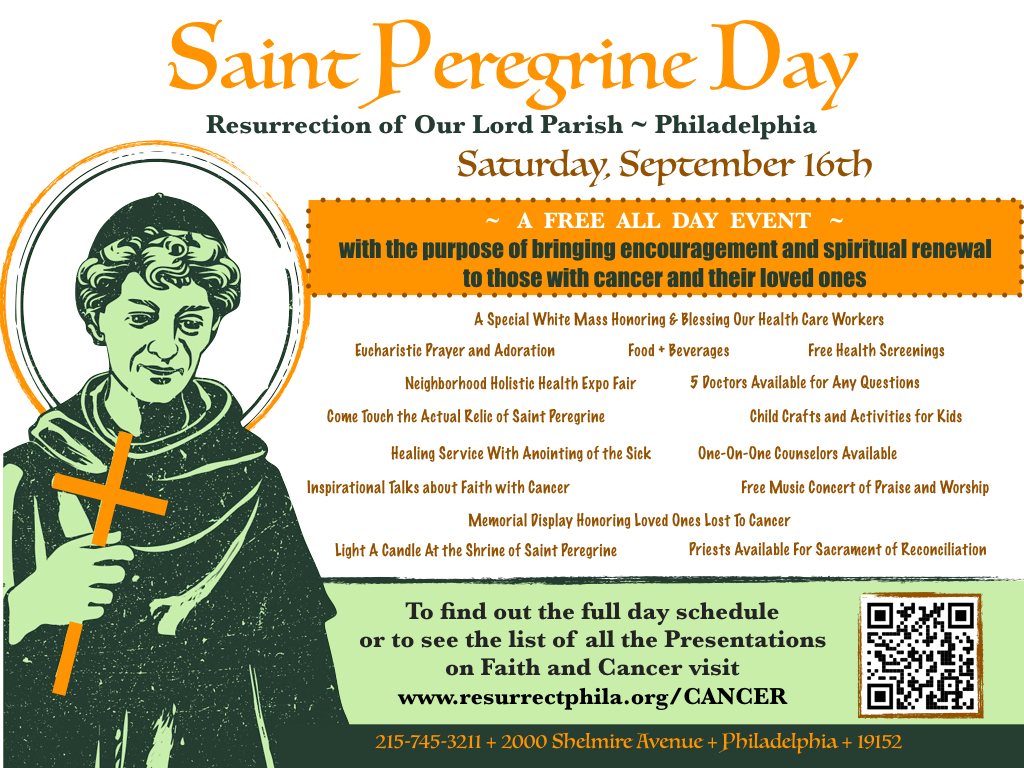 Become a personal or business sponsor for this day.
Become a volunteer for this day and register to help out by calling 215-745-3211 or email Ida at [email protected]
Become a vendor for our  holistic health expo.
(215) 745-3211 to contact the Rectory or email Nancy at [email protected]
Or Click Here for the Vendor Registration Form
To make a donation (especially in honor of a loved one) please use the PAYPAL link below…
Resurrection of Our Lord Parish
2000 Shelmire Avenue in Philadelphia
We are looking for donations for our basket raffles. If you would like to drop off a made basket or an item for our baskets – anything and everything would be appreciated. Thanks for the support!
Speaker Request form click here – We are looking for those who can speak about Faith and cancer in particular. 30-45 minute slots are available. They are almost all filled but if you would like to submit a topic please click the link.
---
Want to add a person's name to be placed at the shrine of Saint Peregrine for this Day. We will pray for him/her on Saint Peregrine Day. Just submit their names BY CLICKING HERE